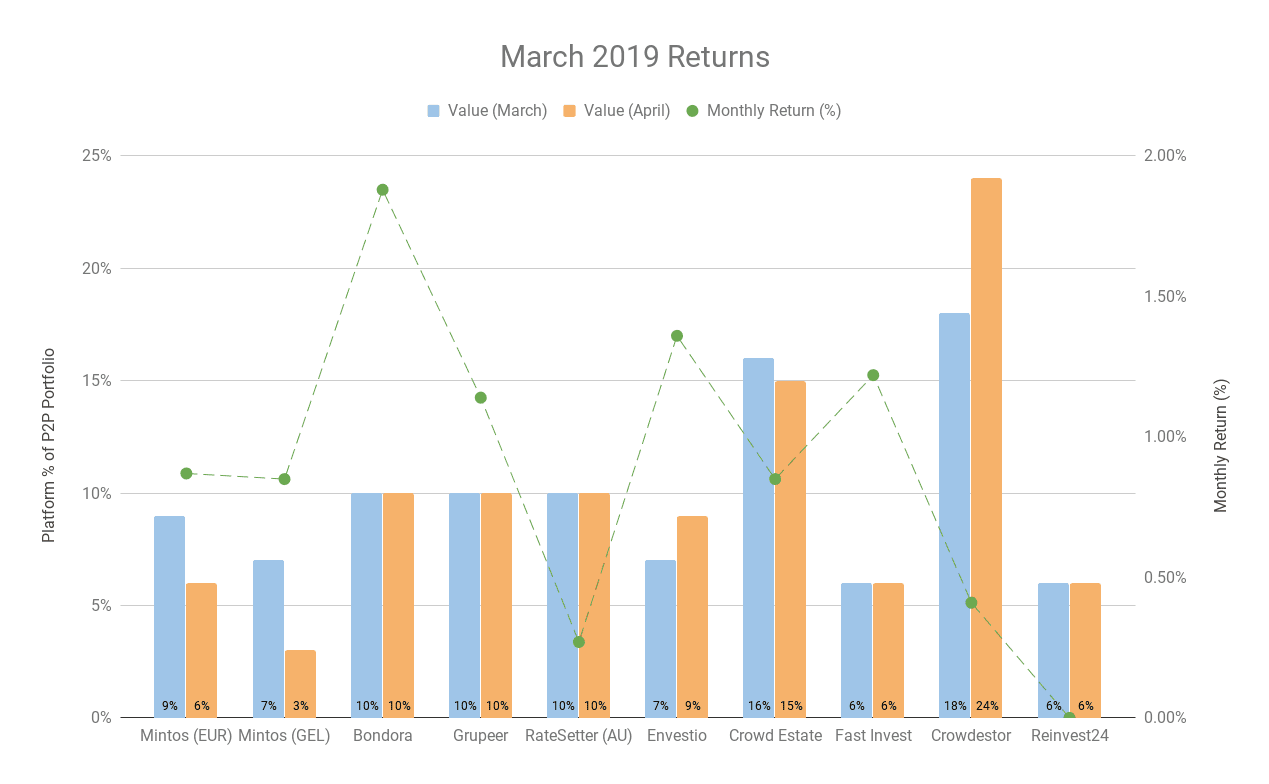 In March my P2P profile grew by an average of 0.86%.
This month my highest returns were through Bondora (1.88%), Envestio (1.36%) and Fast Invest (1.22%). There were no surprises this month. Everything seems to be ticking along nicely.
Let's get into the investment returns:
Mintos
As you can see from the graphs and table, this month I have moved funds out of Mintos. This decision comes down to two factors:
There are no more GEL loans on the primary market, meaning that once all of the current loans are repaid or bought back, there may be GEL no more
In both my EUR and GEL accounts, I have more than 35% of my loans marked as "late". This could come down to my own investment settings, however, I actively invest in Mintos loans that have already had some payments made prior to my investment.
Once the GEL loans are finished, I will move the money into the EUR account, and once I review the lenders, I will turn this into a passively managed account. Any loan originator suggestions?
Bondora
No news for Bondora this month. Payments are up, however, there is no buyback guarantees.
Grupeer
My Grupeer investments are steadily ticking along. News this month from Grupeer includes a new collateral loan protection feature. Read more here.
Grupeer were also having some issues receiving payments through one of their banks, however, this has been sorted out now. More here.
Envestio
My Envestio returns are continually providing one of my biggest returns each month. With the sell of some of my Mintos investments, I was able to invest in a few new Envestio projects –
Fruits wholesale – factoring 9 (6 months, 17.25%)
Factoring-type financing for the purchase and transportation of fresh fruits and berries.
Aluminium production / Industrial Recycling – Tier 1 (11 months, 17.80%)
Factoring-type/working capital increase financing for the additional purchase of raw materials for metal production.
Aluminium production / Industrial Recycling – Tier 3 (11 months, 17.10%)
Factoring-type/working capital increase financing for the additional purchase of raw materials for metal production.
Sawn dimensional timber export to China- Factoring 1 (6 months 19.85%)
Trade financing/factoring for the purchase of timber for cover opened LC.
Crowd Estate
No news to report here. Income will be lumpy due to different projects paying interest either quarterly or at the end of the investment period.
Fast Invest
My reinvest portfolio is ticking over nicely. It's nice to see some proper returns coming in now.
This month Fast Invest redeveloped their website to create a more user-friendly experience. The new platform has been developed to be easy to navigate and engaging. Read more about it here.
Crowdestor
My Crowdestor returns for this month were not fantastic, due to a similar reason as Crowd Estate. This month was a lag month, where some of the projects I invested in last month will only start to generate income next month. Also, one of the projects will only start paying out some interest after 6 months.
This month I have only invested in one project through Crowdestor:
Warehouse Riekstu (9 months, 19%)
Crowdestor Investments SIA is developing a complex of combined office and warehouse premises. Half of the complex space consists of a 3-storey office building and the other half is a 1 storey industrial warehouse. Capital will be used for the acquisition of real estate, reconstruction of the building into an aesthetically pleasing place, furnishing and designing a modern interior.
The other exciting news from Crowdestor is that they introduced their Buyback Fund this month. You can find out more about it here.
Reinvest 24
Both of the Majaka projects that I have invested in are now fully funded!!! (finally).
No money has been returned yet, but the projections show that I should receive some investment return by October.
It was also a relief to see an email from Reinvest24 saying that "interest rates will be calculated from the day of placing the investment, not from the day of gathering the full funding."
I will just hold on and see what happens!
Kuetzal
This month I have also opened an account with Kuetzal and have written a little review of the Kuetzal platform. You can find the review here. The platform seems very similar to how Envestio was in the early stages. There are currently 9 projects open, paying between 6 and 21% interest. Use this link and code SPRING2019 in the registration form to receive a bonus € 10, and 0.5% extra on everything you spend.
Other
We are now into spring and its already noticeably warmer here in Sweden. There are already buds in the trees in the garden, and our latest addition (our 2 m cherry tree) looks like it has taken very well. We are already starting to plant some of the more fragile vegetables indoors before taking them out into the garden in May.
Pro tip – If you have the space for a small garden, it's much cheaper (and better) to grow your own vegetables.
I said that I would write a post about saving money from moving my web hosting from Bluehost to SiteGround, and utilising NameCheap. However, I haven't done this yet – it is still on the "to do" list. Also on the list are some articles about investing and the power of compound interest! Watch out for these next time.
Summary
Here is the summary of how my investments turned out this month.
[table id=8 responsive=scroll /]