Affiliate marketing is one of the most widely used marketing methods today. The annual sales that affiliate marketing generates exceed over 12 billion dollars. The increasing trend of affiliate marketing is the result of its effective campaign and higher conversion rates as compared to other marketing methods. 
Stats show that over 80% of the companies use affiliate marketing to drive sales. This means that there are literally thousands upon thousands of affiliate programs to choose from.
It doesn't matter what niche you write about or want to promote, there is an affiliate program for EVERY NICHE out there. Yes, you heard it right. If you are dedicated enough to do your research, you'll eventually find a relevant affiliate program.
But, you don't have to choose a micro-niche program. You can go for the big leagues and earn big money.
In this regard, one of my ultimate choices for affiliate marketing is the Fiverr Affiliate Program. There are 100's of niches available, and you can earn up to $1,000 for a single affiliate purchase.
So, lets get into the details of how to make big money with Fiverr affiliate program.
Making Money as a Fiverr Affiliate
Affiliate disclaimer: Some of the links below may be affiliate links (disclosure). If you use these links to buy something we may earn a commission (which come at no additional cost to you). Thanks.
What is the Fiverr Affiliate Program?
Fiverr is one of the world's leading freelance marketplaces with millions of freelancers and buyers. Fortunately, they also have an affiliate program that gives you commission for every purchase someone makes on through your affiliate link.
When you sign up for the program, it provides you with a detailed guide and FAQs to learn more about the program and how you can drive more traffic to the platform.
They also provide you tools to speed up your workflow and do some of the heavy liftings for you e.g. providing banners, ebooks, widgets, and many other tools. 
Many freelancers on Fiverr are making 5-6 digit figures a year and the affiliates that increase traffic to the page can do the same. 4 digit figure every month is achievable and relatively easy. The commission per first purchase is massive. Furthermore, there are several ways to partner up with Fiverr in commission. We will discuss that in detail shortly!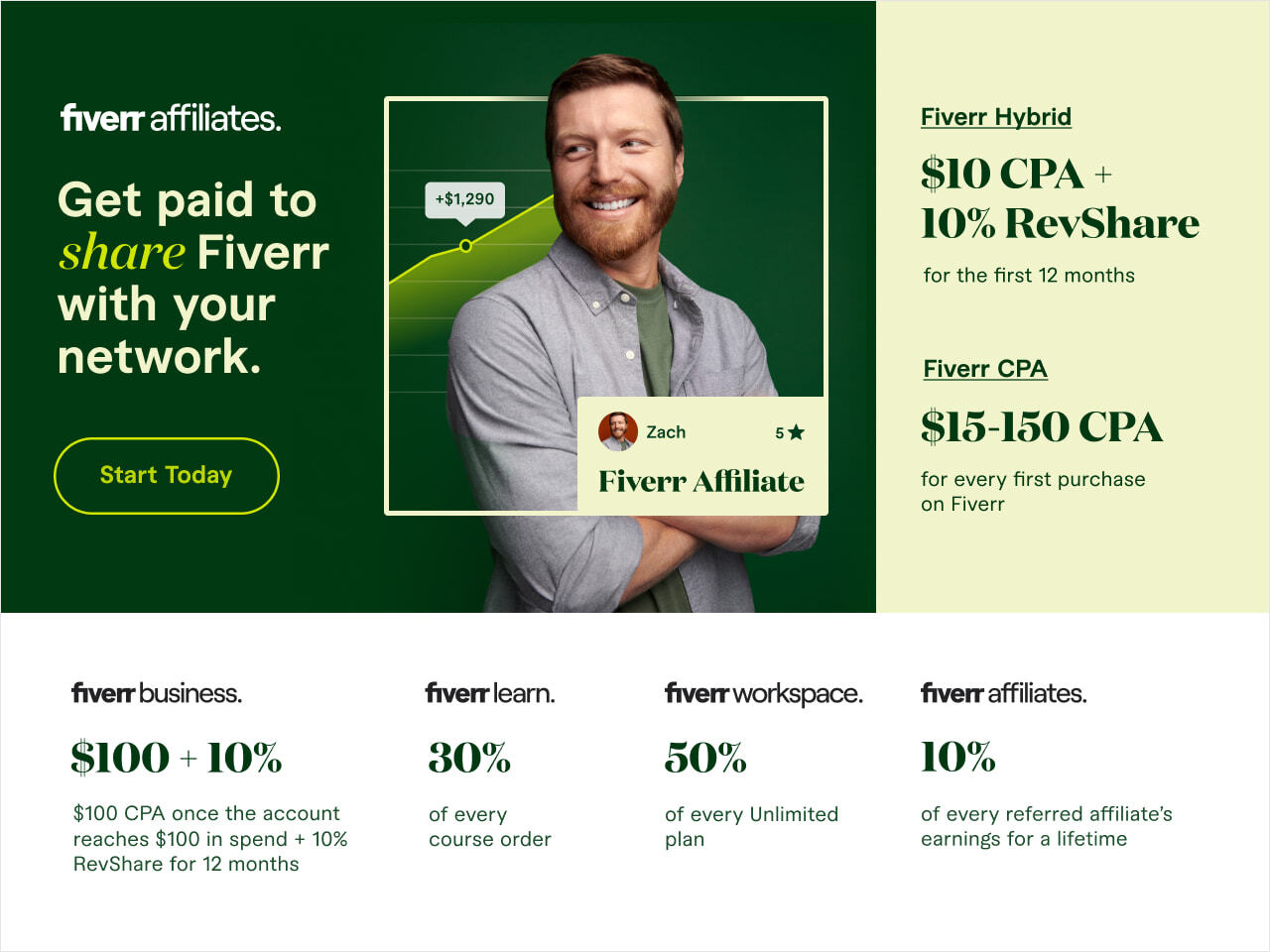 How Does Fiverr Affiliate Work
Fiverr is mainly known to be a famous and successful marketplace but that isn't the whole story. Fiverr has tons of other major platforms that have separate userbase and make profits in different ways. Fiverr's platforms have different business models. While the freelancing site commissions from sales, Fiverr Learn sells courses, Fiverr Workspace is a tool that provides time tracking, creating proposals and contracts, etc and more.
All these platforms can help you generate affiliate income! Let's take a look at them in detail.
Fiverr
One of the largest online marketplaces generates millions of sales monthly.
If you are able to divert sales to Fiverr through your affiliate marketing methods, you'll get a commission for the first purchase made through your link on Fiverr. For more information on commission and pricing, see the next section.
Fiverr Pro
Fiverr Pro is a badge that Fiverr gives to the top and trusted freelancers or agencies. Freelancers, that are able to showcase 'pro' work to Fiverr get approved. They are usually recommended by Fiverr and cost a lot more than a normal freelancer in that category.
So if the buyer from your affiliate link buys a Pro service, you get a commission up to $150 for the first sale. 
Fiverr Workspace
Fiverr Workspace is an all-in-one software for businesses to track time, draft proposals, create contracts, etc.
This is a paid service that Fiverr offers and has a separate affiliate commission structure.
Fiverr Business
To make things easier for buyers Fiverr offers a Business tool to manage all the invoicing, payments, deliveries, etc, and more. All this is managed by a personal assistant that Fiverr allots to that specific business.
This means a more personalised and automatic business workflow. Selling people Fiverr business has its own perks.
Fiverr Affiliates
How ironic! There is an affiliate program for affiliates themselves?
You can sell the actual affiliate program and get 10% of all the affiliate earnings FOR A LIFETIME. Where will you get that kind of deal? Creating this long chain of sub-affiliates is the best form of passive income one can think of.
Fiverr Studio
This is a renamed version of an agency. If the buyer has big projects and can't deal with each freelancer individually, he signs up for Fiverr Studio and lets the studio do all the work in one payment.
The studio will manage the freelancers and budget themselves. So that sounds like a good sales pitch to get people to use Fiverr studio.
How Much Does Fiverr Affiliate Pay?
The best part about Fiverr is that it isn't shy to distribute affiliate commissions. It realises how much it can make in the long term by getting all the traffic through affiliate marketing. 
If I can explain Fiverr's affiliate commission in a simple way, there are mainly 2 ways you can get paid. Either there is a massive one-time payment when the buyer makes their first purchase or you can get a very little upfront payment and get a percentage of the money Fiverr makes via each order that the buyer will place in the future. 
Cost per action (CPA) can start from as low as $15 to as high as $150. If you choose the hybrid model or want to share lifetime revenue, then there might be a very little upfront payment of around $10 and a percentage of commission, every time the buyer buys something on Fiverr. This is more of a calculated bet. If you think that your audience is most likely to use Fiverr again and again, you can proceed with the hybrid and revenue share model. Otherwise, get buyers to make their first purchase and get a big commission. Don't worry if he'll place another in the future or not.
Commission Rates:
Revenue Share Model: You will get 30% of all the profit that Fiverr makes from that buyer's purchases for a lifetime.
Cost Per Action (CPA): Your only job is to somehow convince buyers to make their first purchase on Fiverr and you will be paid a massive one-time commission if you had chosen a CPA affiliate model. The commission list is as follow (the rates are as given on Fiverr's affiliate site):
| Service Offered | Affiliate Commission |
| --- | --- |
| Any Fiverr Pro purchase | $150 |
| Industrial and Product Design, Data Science, Mobile Apps, E-commerce development | $50 |
| Website Builder and CMS, Lyric and Music Videos, Web Programming, Data Processing, Architecture and Interior Design, Game Development, Website Design | $40 |
| 3D Product Animation, E-commerce Product Videos, Logo Maker, SEOT-shirts and Merchandise, Research and Summaries, Business Consulting, Proofreading and Editing, Financial Consulting, Producers and Composers | $30 |
| Illustration, Gaming, Articles and Blogposts, Video Marketing, Social Media Marketing, Resume Writing, Short Video Ads | $25 |
| All other categories | $15 |
Hybrid Model: It is a mix of both models mentioned above. The affiliate will get a $10 upfront payment and a 10% lifetime commission from all the purchases that the buyer makes.
How to Sign Up as a Fiverr Affiliate
Getting accepted on Fiverr is pretty easy. Anyone can show Fiverr a promising way to promote their services and get accepted.
Simply head to their sign-up page for the affiliate program and fill out necessary details (e.g. email, password, name, business model, and how you can promote Fiverr and it's services). After completing the form and submitting your application, Fiverr will review your application and send you an email with their decision.
How to Promote the Fiverr Affiliate Program
There are a lot of ways to promote Fiverr's services. You can run ads of your affiliate links, write articles, have a whole website with your referral link, or do the hard job of inviting people one by one via social platforms and discussion forums.
Promoting the Program Through a Website
If you have a website or a blog, it is very reasonable and easy to provide Fiverr's affiliate link there. If your blog has a readership that would buy a service from Fiverr, you should definitely promote it through engaging blog posts and articles. This is a very effective and highly recommended way.
Fiverr Search Box Widget
Late in 2020, the platform introduced a search box widget, which allows you viewers to easily find a freelancing service on Fiverr. The widget is linked to your unique affiliate code, which means that any service that gets bought through the tool is automatically tracked.
The idea behind this widget is that it allows the website viewer to actively search a specific service through your site. This takes the guesswork out of you proposing something that your viewers may not be interested in.
It also means that you can place this widget fits into any page or topic that you are writing about.
I have included a box below for you to have a try yourself:
Fiverr Gig Ads Widget
In 2021 the program released "Fiverr Gig Ads", which is a widget that you can use to promote specific "recommended" freelancing services from your website.
Unlike the search tool, the gig ads tool allows you to show specific filters based on topics, keywords and price range. This means that you can be hyper specific with the who you want to target.
For an example, you may want to only show services under Writing & Translation (the topic), but are specifically related to Proofreading & Editing (the subtopic), and are in Spanish (the relevant keyword). To go further you may want to specify a certain price range (such as $20-$30).
The widget itself has a lot of cool features such as default gigs, how many gigs you want shown in the portfolio and the ability to direct to services in other languages!
You can easily install the widget through an iframe, by entering some HTML code into your website. It doesn't get much easier than that!
Promoting the Program Without a Website
One of the best things with affiliate marketing, is that you don't need a website to sell the service.
You can take part in relevant discussions forums on various platforms including Reddit. Promote your affiliate link there or visit related social media pages and accounts to directly pitch Fiverr's services.
The number of sales you generate totally depends on how you pitch it and where you pitch it. There are more than 4 billion social media users. It's up to you to find your target audience!
Affiliate Program vs Referral Program
The Fiverr affiliate program is very different from the referral program. The affiliate program is designed for mass marketing and traffic. That is why Fiverr provides tones of commission structures, a personalised dashboard, and analytics, etc.
The referral program is for your own social circle. If you want to invite your friends to be a part of Fiverr, you can send them a personalised referral link, which provides 10% off their first purchase.
Note that the maximum amount you can earn through the referral program is $100. So if your friend makes a purchase of $2,000, you will only get $100. If they make a purchase of $500, you'll get 10% (or $50) from it. Any commission is limited to their first purchase.  
Fiverr Affiliate: Final Review
Is the Fiverr affiliate program worth it? Totally! If you have the right user base that likes to purchase services online or your blog is based on teaching people to access skills from people online, Fiverr affiliate is a great way. This is mainly because Fiverr is a very safe and highly recommended place and you will be redirecting your user to a trusted site with great customer support. It will not put your reputation in line which is a plus.
Secondly, if they are looking for online services, they'll eventually reach Fiverr one way or another. Why not help them sign up and make some profit from it too? Although there is one restriction. To get the commission, the user must be completely new to Fiverr and it should be their first purchase. If they are already signed up previously, you won't get the commission for it. Additionally, you should always check terms and conditions of the program to find out what's acceptable or not.
Anyways, it's a great way to earn easy profits. Especially when you have a user base that is likely to reorder on Fiverr, making a commission for a lifetime will be the best decision you'll ever make!
What are you waiting for? Sign up for the affiliate program now!