Recently I have come across a game that provides cryptocurrency based rewards (HORA Tokens) depending on your skill level. How neat is that!? The game is called Crypto Idler Miner. If you're not into "idle type" games, then this may not be for you.
If you are interested in games that earn you free cryptocurrency (even while you're offline), then read on!
Earning Hora Tokens from Crypto Idle Miner
Affiliate disclaimer: Some of the links below may be affiliate links (disclosure). If you use these links to buy something we may earn a commission (which come at no additional cost to you). Thanks.
The game I am talking about is Crypto Idle Miner by Hora Games. The game works like other idle games, where you are required to upgrade certain items, to provide a multiplier to a cash value. Once you reach a certain value, you can "prestige" to start from the beginning with even more multiplication factors. The main goal is to stack as many multipliers as possible in the most efficient way and make the most money (or cryptocurrency) as possible. Crypto Idle Miner has two forms of cryptocurrency, that may become confusing:
Simulation cryptocurrency – that is mined as part of the idle game. This currency is not real and has no value.
Hora tokens (Real cryptocurrency) – that is awarded at the end of a season to the best performers.
Please note: Crypto Idle Miner is only a game, and the cryptocurrency that you mine in an idle state within the game, is not real and only a simulation.
The real cryptocurrency that you can actually win (HORA tokens) has been created through a smart contract by the developers of the game (Hora Games). Hora Games will keep 10% of the contract and will pay out the remaining 90% to the players. You receive tokens based on your league position, then once a week, you're able to transfer the cryptocurrency into a compatible wallet. From there you can hold it, exchange it for money, or other cryptocurrencies.
What are Hora tokens?
HORA Tokens are the in-game currency in Crypto Idle Miner. The tokens are based on the TRC20, used for smart contracts on the Tron (TRX) network (which is comparable to the ERC20 standard on Ethereum). What this means is that the tokens follow the common rules allowing them to use the Tron network. The rules govern token transfer and how the data linked to each token is accessed.
For further understanding, "ERC20" is to Ethereum as "http" is to internet.
As with other cryptocurrencies, the HORA token will be able to be freely traded on the market. Hora Games has plans to use the cryptocurrency in future games as well.
How much are HORA tokens worth?
As the token is so new, it's currently worth very little. The developers have stipulated that they will let the market determine the value of a HORA token. Hora games plan on making further games using the same token and plan to introduce marketplaces that utilise the token.
There will only be a limited number of tokens (12 billion), which will help with the exclusivity.
You can find the current price of HORA Token (HORA) through CoinGecko.
For some reference, I have included the price for HORA vs USD over the last year:
Strangely thought this trend seems to be pretty close to the current Bitcoin path as well.
---
---
How do you earn HORA tokens?
You can earn HORA tokens by competing in leagues within the game. Individuals are separated into various leagues, and tokens are distributed at the end of each season. Each season lasts 7 days (ending every Monday). As can be seen in the below chart, the average token payouts vary depending on what league you are in.

Crypto Idle Miner Event Tips and Tricks
With each event, I am usually able to get the top badge within 1 – 3 days of playing. This will depend on how much time I dedicate to the game. I am not the quickest, and this is likely not the fastest way to progress, but I will share it with you all the same. The overall objective is to reach the last miner as quick as possible, which allows the most income to be generated. I do this by combining boosts, and also opening new rigs and cryptocurrencies when they become available. This is the way that I would progress:
Allocate 10 levels to rig 1. This allows you to unlock the managers to have everything automated.
Buy the next Rig (no# 2). Leave it at level 1. Use the boost of an Epic Super-manager combined with the Mining and Trading Booster.
Unlock Rig 3 and repeat until you unlock Rig 5.
Allocate 25 levels to Rig #5 (10/15/20), to unlock the cooling system.
Unlock Rig #6 (11/16/21).
Repeat Step #2 to #5 until you reach Rig #25. By this stage my Rig levels would look like 1, 1, 1, 1, 25, 1, 1, 1, 1, 25, 1, 1, 1, 1, 25.
Level up Rig #25 as quick as possible. Stack boosts and unlock currencies as fast as possible.
Once you get to level 800 on Rig #25, you can start to buy the remaining event requirements.
Extra tips:
As soon as the next rig is available, buy that and move your manager down.
Unlock new cryptocurrencies as soon as you can.
Always place the manager with the highest experience on the rig generating the most power.
Combine as many boosts as possible for maximum speed (i.e. plants, super-managers, mining and trading boosters).
If you are stacking boosts, ensure that your trading manager and infrastructure manager are working at over 100%. You may have to boost them too.
Crypto Idle Miner Game Promo Codes
Another way to earn tokens is to utilise the promo codes on offer. From the "User Profile" screen, you are able to enter promo codes to reward you for your progress.
Here is a list of crypto idle miner promo codes that may or may not work:
EG2019 (500 Tokens)
Reach Level 5
BTCRYPTO (500 Tokens)
Reach Level 5
FH2019 (500 Tokens)
Cooling System 1 in Ethash Building
MT2019 (500 Tokens)
Reach Level 5
WELCOME (200 Tokens)
Rig 7 in Ethash Building
4THOFJULY (300 Tokens)
Reach Level 3
OCEANDAY (300 Tokens)
Reach Level 3
SEASON100 (500 Tokens)
Reach Level 3
Most of the codes will require you to reach an achievement (i.e. reach a certain level, unlock a certain rig etc.)
---
Earn up to 12% Interest on Your Cryptocurrency
Tired of your crypto sitting idle in your wallet?
With Nexo you can earn up to 12% interest, paid out daily on 24 different cryptos and stablecoins.
Click here to find out more
btw – if you transfer in $100 of more of any crypto, you will get a bonus $25 in BTC (until Dec 31).
---
How do the Crypto Idler Miner Game Developers Make Money?
Each month, a smart contract will deploy tokens. The value will be the monthly user base x 100 (but no more than 100 million tokens). The tokens will be allocated with 5% going to the development team (Hora Games), 5% to marketing (i.e. referral systems etc), and the remaining 90% will be distributed amongst players.
How do I withdraw HORA tokens to a Tron wallet?
Updates to the HORA withdrawal system
On December 9, 2021, Hora Games released an announcement about changes to the way that withdrawals will work. Among other things, the team have decided to move to the Binance Smart Chain Network which is because the previous network PoloniDex has closed down, and also, because the price of TRON is now 5 times higher over the space of 1 year.
The other addition to moving to the Binance network, is that it allows the game to implement a NFT marketplace (skip to that content). A new token will be introduced ($HCOIN) that will structure the NFT gameplay.
The below information is prior to the move to BNB.
Before you withdraw the tokens, you will need to make sure you have a TRC20 compatible wallet and at least version 1.2.1 of Crypto Idle Miner installed.
The current supported wallets are TronLink (desktop and mobile) and TronWatch.me (mobile).
Once you have downloaded the wallet, you will need to allow the HORA token, which you can do by following instructions issued by Hora Games.
Withdrawals are done manually once per month.
The minimum amount to withdraw is 10,000 tokens.
HORA Token Information
Name: Hora Token
Symbol: HORA
Network: Tron (TRC20)
Contract address: TNjt5fShPVJ4YpsLuU4THuBbg58g2bZoLk
TronScan link:
https://tronscan.org/#/token20/TNjt5fShPVJ4YpsLuU4THuBbg58g2bZoLk
Total supply: 100 million, being increased by 100 million each month.
Minting cap: 12 billion
Expected total supply mint time: 10 years
Related Articles
How do I convert HORA to USD (or other Fiat currency)?
Transfer to the Binance Network Currently underway
While the game is moving to the BNB network, there is no current way to withdraw your tokens and trade them for USD.
Once the token has been deployed in the new network, each person will be in charge of any fees associated with withdrawing HORA tokens.
$HORA BEP20 withdrawal details will be provided once things are more setup.
There will be options to transfer any TRON tokens to the BSC network through a structure which will be created once the token is deployed on the Binance network (all of your funds are safe). Read more here.
The information below is currently in limbo while we wait for the BNB process to occur:
Converting HORA tokens into real money, such as USD, requires several steps. It may take some time to set up, but once you have done it once it's easy!
There is also more than one way to go about converting your tokens into currency, and it's important to realise that you can get different prices depending on which exchange you use. I have listed only a few exchanges that HORA tokens are currently traded on.
STEP 1 Exchange HORA for TRX (Tron). Platforms that offer these pairs include:
STEP 2: Trade TRX for another cryptocurrency (TRX/BTC or TRX/USDT are common trading pairs), or find a platform where you can sell TRX.
Here is a more detailed process:.
What you will need to convert tokens
HORA tokens
a TRC20 compatible wallet (such as TronWallet.me / TrustWallet)
a Bitcoin (BTC) wallet (BTC will be the trading pair used here)
a selling account (such as Coinbase, or another crypto to fiat currency withdrawal account)
an exchange account (such as Binance, FaucetHub, TradeSatoshi)
Please note: TronWallet.me is now Klever.io. Read here on how to transfer HORA tokens from TronWallet.me to Trust Wallet or any other wallet.
The Process (HORA to USD) using FaucetHub
The process is straightforward. Basically you will need to:
Earn Hora
Send HORA to FaucetHub wallet
Convert HORA to Bitcoin (BTC)
Send Bitcoin to Coinbase
Sell Bitcoin (BTC) for USD
The Process (HORA to USD) using Binance
Earn HORA
Download TRC20 compatible wallet
Transfer HORA tokens to TRC20 compatible wallet
Convert HORA tokens to Tron (TRX) Tokens
Send Tron Tokens (TRX) to a marketplace (such as Binance)
Convert Tron Tokens (TRX) to Bitcoin (BTC) / LiteCoin (LTC) (Litecoin is cheaper to transfer Binance -> Coinbase)
Send Bitcoin (BTC) /(LTC) to Coinbase
Sell Bitcoin (BTC) for USD
The More Detailed Process (convert HORA tokens to USD) with Binance
Earn Hora Tokens from playing Crypto Idle Miner!
Download a TRC20 enabled wallet
Download a wallet that can hold TRC20. I currently use TronWallet.me
Transfer HORA tokens to Tron compatible wallet
From the User Profile in Crypto Idle Miner, select the withdraw feature.
Enter the TRON wallet address that is found in your TRC20 compatible wallet. In TronWallet you can find this by hitting "receive" from the main screen.
Select the number of coins and then hit withdraw. Withdrawals are processed manually, so may take up to a week to come through.
Wait patiently ?
Please note: The TRON address is the address of your wallet (from TronWallet.me). It is not the "contract address" at the bottom of the withdraw screen.
Convert HORA tokens to Tron (TRX) Tokens
From the TRC20 wallet, you will need to find a place to convert HORA to TRX tokens. In TronWallet, you can do this by going into the URL feature within the application. Enter: https://tronwatch.market/
You will now need to add the custom token. From the trading pairs dropdown select "add custom token". This is where you enter the contract address found at the bottom of the withdraw screen. The contract address for the HORA token is:
TNjt5fShPVJ4YpsLuU4THuBbg58g2bZoLk
Now the HORA / TRX pair will show up.
Place a sell order to convert HORA to TRX. Depending on the amount you have set, it may take some time to process.
Send Tron Tokens to a Marketplace
You should now have a bunch on TRX tokens sitting in your wallet.
Now we need to transfer those into another platform that allows the transfer between TRX and a more mainstream token, such as Bitcoin (Currently you can't withdraw TRX to USD).
The platform that I use for this is Binance. You can create an account here if you haven't got one already.
Once you have a Binance account, you can transfer your tokens from your TronWallet to your Binance address. You can find the details of your TRX wallet through Binance, by selecting "Deposit".
Convert Tron Tokens (TRX) to Bitcoin (BTC)
Now that your TRX tokens are on the Binance platform, you will need to start a trade. The easiest would probably be TRX to BTC, but other currencies can be used (i.e. ETH).
Once your trade has been completed, you should now have some bitcoins (or a part of a bitcoin) in your Binance account.
The Bitcoins now need to be sent from Binance to a marketplace where you can sell cryptocurrency (as you can't sell from Binance). I use Coinbase. You can sign up for a Coinbase account here.
Find your Coinbase address for Bitcoin (under BTC receive) and then send the BTC tokens from Binance to Coinbase.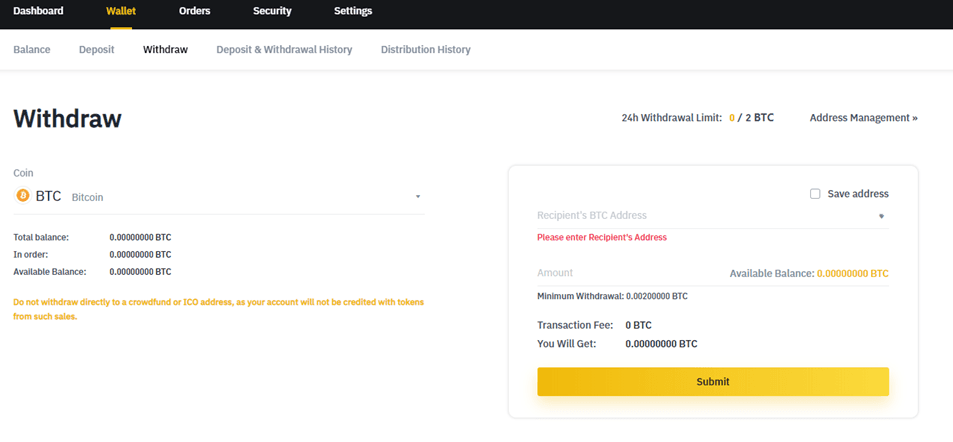 Now that the tokens are in Coinbase, you can sell those and receive the money. Pretty easy right?
Please note: you will need to confirm your bank account with before Coinbase will let you withdraw the money.
Crypto Idle Miner 2.0 – Introducing NFTs
As part of the move to the Binance network, the development team have decided to incorporate Non-fungible tokens (NFTs) into the game. NFTs allow you to own something (art, music, a GIF, etc) that is stored online. This item can be traded and sold for whatever you think its worth.
Within the game, the developers have decided that incorporating a NFT will really separate the game apart from others in this space. Queue the release of Crypto Idle Miner 2.0
The new version of the game has been designed to favour active players rather than those who play passively. In addition, there will be a whole section based on NFTS which will help you generate more through the game. Initially these will be set up through the Buildings and GPUs (the things you use to mine, and the storage facilities).
More information will be available in the white paper which should be released in the first half of 2022. More can be found in the extensive article here.
Is the Crypto Idle Miner game a scam?
4. Will this hurt my phone? How can you mine on your phone? This is absurd!

We can guarantee to you that your phone will remain as it was, flawless! This is a simulation game, there is no additional usage of your phone memory/CPU/GPU whatsoever, than there is with any other game that you download from the store and play! Even though there is no real mining within the game, you'll still be rewarded with HORA Tokens.

Hora Games website FAQs
Future plans for Crypto Idle Miner and Hora Games
The first priority was the development of Crypto Idle Miner
Creation of a marketplace, allowing players to buy and sell tokenized items
Creation of a hub to allow users from other games and apps to buy and sell items
Finalization of further games built
New partnerships with other players in the industry
Events
With the launch of version 1.4 of Crypto Idle Miner we saw the release of the first event – Spooky Event 2019! This was a event that was meant to match up with Halloween.
As can be seen from the below pictures, the event required each person to reach a certain goal, and in exchange be rewarded with XP.
The event was run over several days, with most players being able to complete it within that time.
Crypto Idle Miner Game Tips and Tricks
There are many ways to go about the game, and here I have listed a few tips and tricks that I have picked up during my time playing. For reference, I have been in the top 100 of players worldwide since Season 2.
Prestige as soon as possible. If you don't, it will make it harder next time
Combine boosts for maximum points (i.e. 2x for add watching, overclocking, pets/plants, mining booster, trading booster, etc)
Keep traders above 100%
Change coins as soon as the efficiency drops below 100% (if you have mined the coin for too long)
If your miners are shutting down, upgrade the cooling units.
Tips on gaining XP:
XP is based on Building worth
Once you have done the prestige, you will need to pass that same point for XP to continue growing.
Open new buildings to speed up your progress.
Crypto Idle Miner Game & Hora Tokens Review
I am not one to invest in cryptocurrency, but, I am fully down for earning free cryptocurrency through games. Even if the HORA token is not worth anything now, I am happy to hold it for a while to see what happens. If it never gains any value, well I have spent time on a game that was fun (and I didn't have to pay for).
This is also my first exposure to physically holding cryptocurrency in a wallet. It's a completely new world that has opened. I have downloaded the (free) TronLink wallet, as well as the Enjin wallet. These wallets allow me to store Bitcoin, Ethereum, Litecoin, TRX, TRC20, TRC10, ERC20, ERC721, and ERC1155 Tokens. Currently, the Enjin wallet is the most secure mobile cryptocurrency wallet.
Having this wallet now allows me to explore airdrops, and other various cryptocurrency adventures, which is another potential source of income!
Please note: I am not "heads over heels" for cryptocurrency. Cryptocurrency is very risky and I personally don't buy my own tokens.
More information about Crypto Idle Miner can be found from the Hora Games website.
---
A Note on Cryptocurrency Taxes
With the increasing utilization of cryptocurrency in today's age, it's important to be aware of tax obligations that may arise through your cryptocurrency use. To help you keep track of your coin movements, and potential tax obligations, there are companies that are able to keep track of all your purchases, exchanges and sales. Here are two of the best at the moment:
CoinTracking (the program I use) analyzes your trades and generates real-time reports on profit and loss, the value of your coins, realized and unrealized gains, and reports for taxes. There is a free version, or use this code for 10% off any upgraded plans.
CoinTracker is a unified interface for cryptocurrency. It lets crypto holders connect their wallets and exchanges, see their portfolio, wallets, and transactions in one place, and generate their cryptocurrency tax returns with the click of a button. There is a free version, or use this code for $10 off any paid plans.
Please note, nothing in this disclaimer or article is financial advice!
---
This was just one of many other ideas about making money online without experience. If you want to discover more opportunities, check out our list of additional ways to earn money.
---