Cryptocurrency is becoming more and more common in today's society. People are able to purchase their shopping, buy a beer at the local pub, transfer money across the world and even governments are starting to recognize that cryptocurrency is not going away. The problem is, that a lot of people still don't understand cryptocurrency, or how to buy Bitcoins. We have created a little crash course on 5 ways to help you get started with cryptocurrency, but we haven't discussed any methods or actually purchasing some cryptocurrency (specifically Bitcoin). In this article I will detail to you how it only costs less than 0.5% in fees (in total) to buy Bitcoin at the market price, from one of the most trusted platforms around.
I'm not writing this article to push one platform over another. I genuinely use this method whenever I am buying bitcoin.
What is a Bitcoin and Why Do I need to Buy One?
Bitcoin is a digital currency developed in 2009 that uses peer-to-peer technology to facilitate instant payments. It is currently the most significant and valuable cryptocurrency currently available, and is the cryptocurrency that most people are familiar with. It is also the cryptocurrency that most people want to know more about.
There are currently many benefits of Bitcoin (and other cryptocurrencies in general). These include:
Providing a fair finance system for all – cryptocurrencies operate through a decentralized Peer-to-Peer Network – the currency leaves Person A (the seller) and goes directly to person B (the buyer). There is no government interaction.
Inflation – Bitcoin has a limited supply. The government can't print anymore.
Low cost and fast transactions – it's much cheaper to move money through Bitcoin's peer-to-peer network than it is through a bank. Transactions are also fast, and have no bias to your location.
Open and transparent system – all transactions can be viewed and tracked.
So, with a rise in interest from the general public, there is also a rise in those wanting to utilise Bitcoins (and other cryptocurrencies) in their operations. There have since been an explosion of companies that are utilising Bitcoin in one way or another. There are many reasons that you may want to hold Bitcoin, including providing a hedge against inflation, to trade daily to make a profit or to invest. I initially got started with Bitcoin when I became an investor through The Sun Exchange. Each month I will use the exact method below to purchase Bitcoins, to then purchase-to-lease solar cells in for schools, retirement homes and supermarkets in South Africa.
But, with the rise people wanting to buy Bitcoin, there is also a rise in the amount of platforms that offer Bitcoin. These range from high safety and high security, to untrustworthy scamming sites. So, depending on which platform you choose to invest in, you could end up paying a lot more for your Bitcoin than you need to. Examples of these higher costs include high fees, limited payment methods, and poor exchange rates.
If you are purchasing Bitcoins regularly (or even once off), then its important to keep these costs to a minimum. That's why I have created this article!
Why is it important to buy cheap Bitcoins?
This is pretty self explanatory, but we will go into it. No-one wants to pay more than they have to for the same thing. You are after 1 Bitcoin. It is the same item regardless of which platform you buy it from. Lets have a look at two examples, and for ease lets say the price of a Bitcoin is $10,000:
Platform A says you can buy a Bitcoin for $10,000 but it will cost you 9.5%
Platform B says you can 1 Bitcoin for $10,100, but it will cost you 0.5% in fees
There is no difference in the underlying product if you purchase it from Platform A or Platform B. So, by finding the lowest fees and a great exchange rate, you are effectively getting more value for your money. In the scenarios above, you would be paying $10,950 for a Bitcoin on Platform A, and $10,150 for a Bitcoin on Platform B. That is a saving of $800
How Do I Buy Cheap Bitcoins (BTC)?
How To Buy Bitcoins Cheaply, Safely and through a Secure Platform
So if you haven't guessed already, the platform that I use to buy cheap and safe Bitcoins, is no other than Coinbase (but more specifically Coinbase Pro). I am able to buy Bitcoins within 10 minutes of deciding that I want to make a purchase. This is 10 mins from my wallet in my pocket, to the BTC in my virtual wallet. Thats usually not a "gamechanger" in itself, however, I also only pay 0.50% of fees in the whole transaction. Let's run through the process and see how…
Total Time Needed :
10
Minutes
Total Cost:
>0.001
BTC
Required Tools:
– A Computer or Phone with the Internet
Things Needed?
– Identification for KYC checks
– EU Bank Account Details
Steps for Purchasing your First Cheap Bitcoin (BTC)
Coinbase Pro
Coinbase Pro (previously named GDAX – Global Digital Asset Exchange) is a trading platform under the Coinbase banner. The platform contains more advanced trading features that can be utilised by experienced traders.
Making the Trade
When you first log into Coinbase Pro, you will see a similar screen to the one above. I have pointed out the main areas that you need to focus on.
The Market. Here is where you choose what pairs you want to trade. There are many pairs available, so go nuts! For this tutorial specifically though we select EUR and BTC.
Deposit and Withdraw. Here is where you select if you want to deposit EUR into the platform (from standard Coinbase) or if you want to withdraw (or send) BTC.
Buying and Selling. This is the area where you will choose if you want to buy BTC with EUR, or if you want to sell your BTC for EUR.
Placing the Order. Hit the big green button and your order will be put through
Selling. Go back up to Step 2 and choose a method to withdraw your Bitcoin.
Depositing Money Into Coinbase Pro
Depositing money into Coinbase pro is simple. After you hit the deposit button (see above), you are presented with a screen with a couple of different options (see below). I you already have Euros, GBP or USD in your Coinbase account, you can easily transfer those by selecting Deposit (Currency) -> Coinbase.com otherwise you can choose to send money into Coinbase Pro from your bank account. Once the money is in the account, its ready to trade!
Depositing currency into the platform
Selecting methods to deposit Fiat currency into the platform
Selecting to deposit from coinbase.com
Once you have chose to deposit from Coinbase Pro, you are able to choose how much you would like to deposit
Withdrawing Bitcoin from Coinbase Pro
Withdrawing Bitcoin from Coinbase Pro is also very simple. Once you hit "withdraw", you are presented with a screen which will ask you where you want to withdraw your bitcoin. You will be provided with an option to send it to your Coinbase account, or to send it to another wallet (both options are shown below).
Withdrawing (sending) Bitcoin to another wallet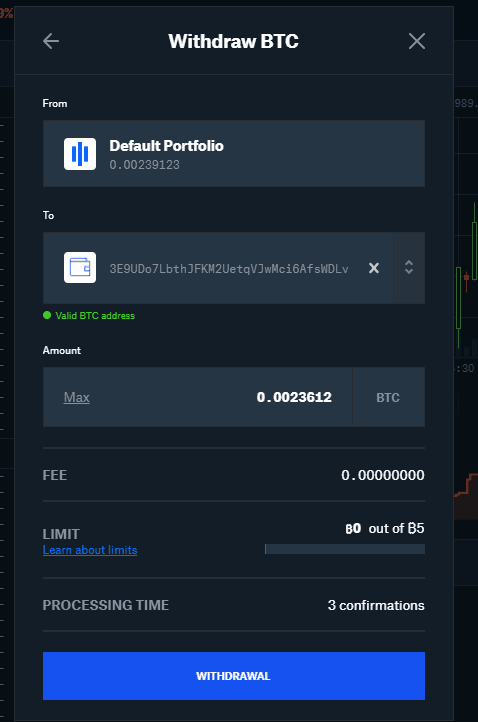 Sending Bitcoin back to your coinbase.com account
Coinbase vs Coinbase Pro
Coinbase is the initial platform that was created in 2012, which was designed to make it easy to connect people to cryptocurrency. The platform caters to beginners and is simple to use. Coinbase Pro on the other hand is a more advanced trading platform that is utilised by more experienced traders.
If Coinbase Pro is more advanced, then why are do you recommend we use it?
Simple. Coinbase Pro is actually really simple to use if your only making one or two trades, and more importantly, they have much lower fees compared to Coinbase.
What Trading Pairs are Available Through Coinbase Pro?
Coinbase Pro currently operates many countries including United States of America, United Kingdom and Europe. Some countries have access to crypto/fiat trading pairs while other countries can only access crypto/crypto trading pairs. A full list of countries and trading pairs can be found here.
Coinbase Fees vs Coinbase Pro Fees
Depending on which country, and how you are funding your Coinbase account will depend on the fee that you are charged. The below table is a small summary of the fees that you may face when adding money into the coinbase platform.
Country

Credit / Debit Card

Bank Transfers

Australia

3.99% 

–

Canada

3.99% 

–

Europe

3.99%

Free (in)
€0.15 (out)

Singapore

3.99% 

–

UK

3.99%

Free (in)
€0.15 (out)

USA*

3.99%

1.49% (US Bank Account)
Fees for Coinbase (not coinbase pro)
*The USA has multiple deposit methods which weren't all covered in the table. Additional methods include ACH Transfer (Free), Wire Transfer ($10 ($25 outgoing)),
In addition to the above fees, Coinbase will charge roughly 1.5% on a standard buy/sell transaction.
So, based on the table above, to reduce your costs of purchasing Bitcoin, you want to either insert money through a European bank transfer, or through an ACH Transfer if in America. All other methods are going to incur an extremely high fee that would require you to find other alternate options for purchasing Bitcoin.
More information about the disclosure of fees can be found in the Coinbase pricing and fees disclosures
Coinbase Pro charges fees based on a taker and maker model. Without getting too complicated, the fee is determined on if you are matching an existing order (i.e. taking), or if you are making the order yourself, where someone will match with you (i.e. maker).
What is important to note is that the cost here is a maximum of only 0.50%.
There are no fees for having or holding funds in a Coinbase Pro account.
Find our more about Coinbase Pro trading fees
Downsides of using Coinbase Pro
Coinbase is a great platform for first time purchasers of Bitcoin, however as with all platforms, there are some limitations. The main one is that Coinbase only offers a limited number of cryptocurrencies to choose from. If you are selecting to trade the main ones (i.e. BTC, ETH etc.) then you should be OK. However if your looking to trade newer coins or currencies, then you may have to look elsewhere.
Alternate Platforms to Buy Bitcoin
There are many other platforms that your able to purchase bitcoin through, including Binance, Luno, Kraken, and Coinmama. The only on in this list I have had experience with is Binance. Binance is a recent platform, which only came online within the last few years. There are many great things to like about Binance, including the amount of coins they have available, and their extremely low fees. Additionally, they have released their own coin (BNB – Binance Coin) to reduce their trading fee even further. However, a massive downside to Binance, is that you are unable to buy bitcoin using bank transfers. This ultimately places the platform out of reach of those new to cryptocurrency. If you were to be investing your Bitcoins through The Sun Exchange, then it may also be an idea to create a Luno account. Luno and The Sun Exchange have an agreement, were you can receive free withdrawals.
Buying Bitcoin through other Trading Platforms
Some platforms like Robinhood and Revolut offer cheap and fast options to purchase cryptocurrency products, however you do not receive a wallet address, and are not able to send bitcoin or other cryptocurrencies to other people (like the other platforms in this list). Therefore platforms like Robinhood and Revolut are great for those looking to invest in or trade cryptocurrency, however they can't be used if you want to send cryptocurrency to others. Secure your Bitcoins There have been multiple cases where cryptocurrency exchanges have been hacked and lost millions and millions worth of cryptocurrency. Therefore we recommend that if you have significant amounts of bitcoin or other cryptocurrency, you store these offline in cold storage. Some of the most secure offline wallets include the ledger nano s and the trezor one, which are under $60. We even compared the ledger nano and trezor one so you don't have to!
Summary
I am always after value. It's one of the main drivers behind this blog. Therefore I take pride in finding cheap and safe ways of making online financial transactions. By purchasing Bitcoin through Coinbase, and using their Pro features, I believe that I have found a super cheap and smart way of securely purchasing Bitcoins. if you know of a cheaper, faster and more secure method, please leave a note in the comments! I will be highly interested in checking it out myself. My criteria include: A known and secure platform; low or no fees; great conversion rates.